The Most Accredited DNA Testing Lab In The USA
Whether you buy an informational or legal DNA test at PaternityUSA.com, you can be assured the laboratory performing your DNA test is fully accredited. The fact is that most entities selling relational DNA testing online NEVER perform the actual DNA analysis. In-fact, they just farm the analysis to the lowest bidding lab whom is often unaccredited & out of country. Our kits come to you directly from lab with no middleman handling or perhaps mishandling the kits.
Also, accreditation is very important to you because only accredited labs undergo rigorous surprise inspections. These are set in place to ensure the lab is using proven authorized protocols for its handling and testing of samples. That's why very few labs are actually accredited.
A DNA test may be the most important test you ever take, only trust an accredited lab for the answer.
FULLY ACCREDITED
Full Accreditation, What Does It Matter Anyway?
The fact is, that in order for a DNA test to be admissible in court, the DNA test must be performed by an accredited relational testing laboratory. Further, specific care must be taken regarding the identification of the test participants. Purchasing a DNA test from an unaccredited lab or one that cuts corners with witnesses or ID's is at best a gamble; it may be cheaper, but should you sacrifice quality and/or court admissibility for such an important test?
Before You Buy Your DNA test, Consider These Facts:
OUR LAB IS THE LARGEST MOST TRUSTED DNA TESTING LAB IN THE USA, performing more DNA tests than any other DNA testing laboratory as seen on TV.
All tests kits include FREE USPS RUSH SHIPPING! You can begin your test the next day. Some competitors want you to create your own swabs using your Q-tips in medicine cabinet, but DON'T RISK COMPROMISED DNA FROM A Q-TIP!
Our lab performs all tests in house. Tests are NEVER sent to other labs for processing. If other lab results are not trusted in a court of law, should you trust them in your home?
We accept only professional DNA collection of your court admissible DNA test. Some competitors allow you to send the kit to a family friend or neighbor, but THAT IS A BAD IDEA, AND NOT COURT ADMISSIBLE IF DISCOVERED!
We do not play bait and switch. Compare the details of what paternityusa.com offers against others, and we're certain you'll agree we provide the best paternity testing service at the lowest prices.
Why trust your important testing issues to an entity that just farms the test to the lowest bidding lab? Choose our "Premium Quality Test" performed at our AABB accredited laboratory. What good is it to save a few dollars, yet receive FALSE RESULTS? A cheap test can end up being extremely costly.
IF THE COURTS DO NOT TRUST THEIR RESULTS, SHOULD YOU TRUST THEM IN YOUR HOME?
AABB ACCREDITED
Our partner lab (DDC), is one of only a handful of DNA testing laboratories actually accredited by the AABB (previously known as the American Association of Blood Banks). Accredited laboratories pass rigorous reviews and inspections of testing processes and laboratory to insure that tests are conducted accurately and thoroughly. Accredited laboratories also participate in proficiency tests and are re-inspected bi-annually. Only an accredited DNA test result is admissible in a court of law in the USA.
ANAB Accreditation ISO/IEC 17025
ANAB ISO/IEC 17025 (formerly ACLASS)
ANAB is an international laboratory accreditation organization and is signatory of the IAF and IAAC multilateral cooperative arrangements (MLAs). Through the IAF, ILAC, IAAC, and APLAC MRAs/MLAs and the Multilateral Cooperative Accreditation Arrangement, ANAB cooperates with other accreditation bodies around the world ensuring that accredited certificates are recognized nationally and internationally. ISO/IEC 17025 is the international standard set for ensuring the technical competency of laboratories and covers every aspect of laboratory management including to name a few, sample preparation, analytical testing proficiency, record keeping and reports.
View ANAB ISO Certificate for Relationship Testing
View ANAB ISO Certificate for Forensic Testing
ASCLD/LAB-International
The American Society of Crime Laboratory Directors/Laboratory Accreditation Board-international is the most stringent accreditation program for forensic DNA laboratories. Our lab has the distinction of receiving accreditation after the first inspection—further evidence of our laboratory's unceasing commitment to excellence.
College of American Pathologists (CAP)
The federal government recognizes the CAP Laboratory Accreditation Program as equal to or more stringent than the government's own laboratory inspection program. Our laboratory has maintained its accreditation under the CAP program since 2004.
CAP accreditation also requires laboratories to participate in its Proficiency Testing Program, in which CAP sends samples to the laboratories for DNA testing and evaluates the laboratories' results. Many laboratories participate in this program but do not obtain accreditation, which entails a more rigorous, on-site laboratory inspection. Our lab is one of few laboratories that participate in and have perfectly passed both proficiency testing and laboratory accreditation programs.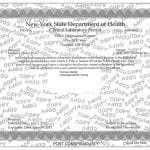 New York State Department of Health (NYSDOH)
The NYSDOH certification permits laboratories to perform DNA tests on cases originating from New York. NYSDOH rigorously inspects the entire testing service, including processes performed outside the lab, such as chain of custody and patient referrals.
Clinical Laboratory Improvement Amendments (CLIA)
The CLIA accreditation issued by the U.S. Department of Health ensures laboratory results are timely, accurate, and reliable. Our lab is accredited by CLIA.
Standards Council of Canada (SCC)
The SCC is Canada's national accreditation body. Because SCC accreditation is based on internationally recognized criteria (ISO/IEC 17025:2005), SCC accreditation provides confidence and credibility both in Canada and abroad. The Citizenship and Immigration Canada (CIC) lists our laboratory as an approved laboratory, and accepts results from laboratories accredited by the SCC. Laboratories are not required to be physically present in Canada to be accredited by the SCC. Also, some laboratories may carry out DNA analysis and retain personal information outside of Canada.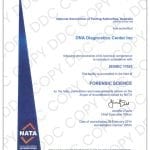 National Association of Testing Authorities, Australia (NATA)
NATA is a national organization that provides the independent assurance of the technical competence of a laboratory meeting stringent international and Australian standards. The NATA accreditation provides a foundation of confidence in our lab's ability to provide consistently reliable and accurate testing.
Our lab adheres to both the Australian Family Law Act Regulations 1984 and the international ISO/IEC 17025 standards and is listed on www.nata.com.au/ as a NATA accredited laboratory along with our certificate and scope of accredited testing.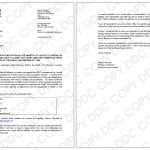 Ministry of Justice (MOJ)
The MOJ is a ministerial department that works to protect the public. Their goal is to reduce re-offending while providing a more effective, transparent and responsive criminal justice system for victims and the public within the UK.
Our laboratory is accredited by the Ministry of Justice as a body that may carry out parentage tests directed by the civil courts in England and Wales under section 20 of the Family Law Reform Act 1969.
ISO 9001
Our laboratory is assessed by three different independent accrediting organizations. Technical experts in the field are held to the ISO/IEC 17025 international standards for the technical competence of calibration and testing labs. In meeting the stringent ISO/IEC 17025 standards the quality management system is also in compliance with the ISO-9001 requirements.
Our lab is the most largest & most trusted name in DNA testing through-out the USA and even the world. We truly offer the highest quality & most accurate DNA tests in the industry at what are among the cheapest prices anywhere. Other labs simply hide costs in added shipping rates or providing cheap, unproven laboratory methods. If you would like to compare what we offer to other quotes you received, call us at (877) 786-9543.